<! ========= Cool Timeline Free 1.6 =========>
Our History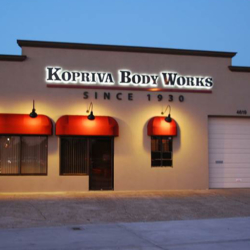 Kopriva Body Works was founder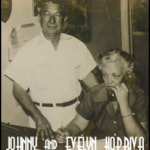 Kopriva Body Works was founded by Johnny and Evelyn Kopriva, opening for business in 1930. Houston was a community of approximately 200,000 residents. The East End neighborhood, where the company operated, was served by street cars along brick lined streets. After 78 years of business, many satisfied customers and loyal friends, as well as their children, are still using our services. Throughout the years we have developed a reputation for uncompromising quality and friendly service.
Original Building
After a fire destroyed the original building in June 1948, the business moved to the corner of Lockwood and Harrisburg where we have continued to operate for 6 decades.
50's Many Changes
During the 50's many changes in the construction design and mechanical
improvements  brought about dramatic changes to Kopriva's, as well as the auto industry.  Auto air conditioning, power steering, power brakes, new innovations in paint composition that were a result of World War II, changed the way cars and trucks were repaired.  Foreign cars such as Mercedes and Volkswagon were introduced from Germany as well as Jaguar, Triumph, and Austin-Healey from England.  These new additions brought about a change in auto repair which Kopriva's adapted to effortlessly.  We have built a reputation for quality foreign car service.
Third Generation Company
In 1997, Kopriva's became a third generation company when John's daughter, Lara and son, David, joined the firm.
Please feel free to call or come by anytime for more information or a shop tour. Kopriva Body Works puts our family name on every product we deliver, so you can count on uncompromising quality…second to none.
The East End of Houston
The East End of Houston has steadily changed over the years but not as dramatically as recently announced. The area
where Kopriva is located is scheduled for groundbreaking for the addition of Metro light rail. This rail system will run from downtown Houston to slightly south on Harrisburg at Magnolia and eventually on to Hobby Airport. Plans are now
underway to convert the property directly across from the Kopriva's to a modern residential high rise lofts with convenient
shopping similar to mid-town, Gulfgate and Meyerland shopping areas. Customers will have the convenience of dropping
their damaged vehicles off for repair and riding rail back to downtown Houston or to the Medical Center.